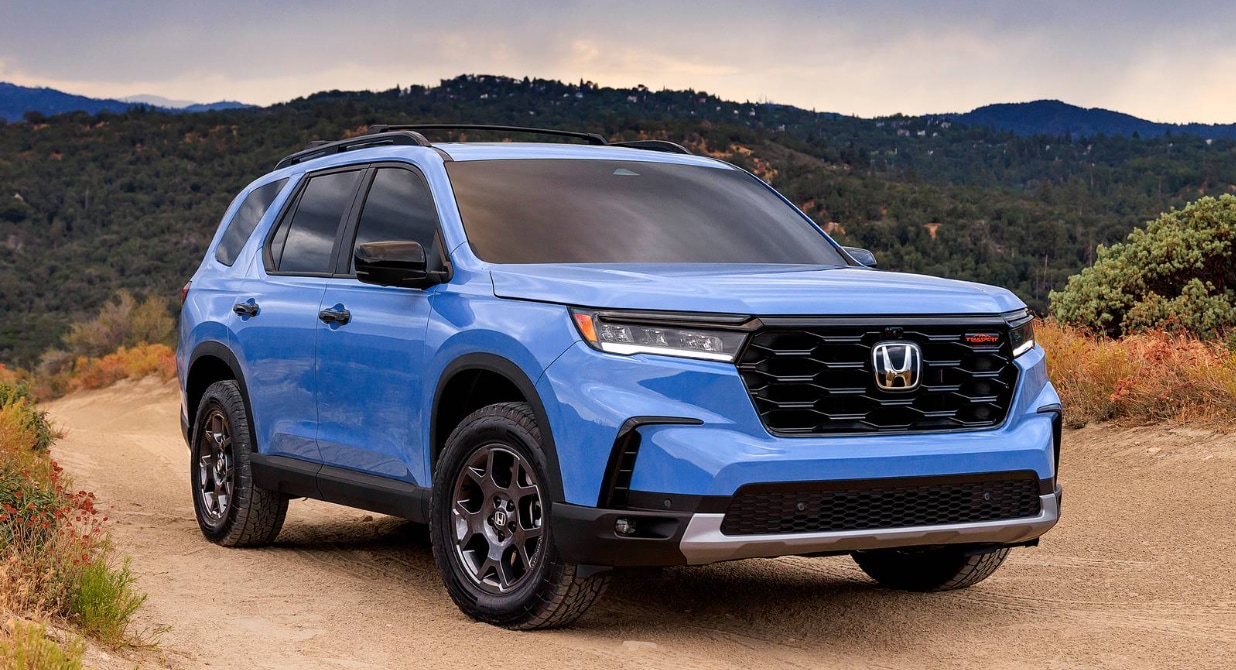 The highly anticipated 2023 Honda Pilot has officially hit the shelves and is available for purchase as of December 2022. Although not all dealers have the 2023 Honda Pilot in stock, you can always custom order the vehicle through a local Honda dealership like Bryan Honda!
Visit our website or call our dealership today to learn more about how you can get your hands on the 2023 Honda Pilot.



2023 Honda Pilot Trim Levels and Estimated Price
When it comes to trim levels, the 2023 Honda Pilot offers a variety of options to choose from. Each trim has a different starting MSRP and may range according to location and dealership. The trims and their estimated starting MSRP for the 2023 Honda Pilot are as follows:
2023 Honda Sport: Starting MSRP $39,150
2023 Honda EX-L 8-Passenger: Starting MSRP $41,950
2023 Honda EX-L 7-Passenger: Starting MSRP $42,250
2023 Honda Touring: Starting MSRP $46,450
2023 Honda TrailSport: Starting MSRP $48,350
2023 Honda Elite: Starting MSRP $52,030
Once again, these prices are a general estimate of what you can expect to pay. These prices are not guaranteed to be offered at your local dealership.
The New and Improved 2023 Honda Pilot Trim - The Trailsport
Many Pilot enthusiasts are excited about the new features coming to the Trailsport Trim of the 2023 model. The Trailsport is made for taking off-road trips and comes with a few extra add-ons that make it perfect for more adventurous activities. The Trailsport includes features such as:
Off-road-tuned suspension
TrailWatch Camera System
Exclusive 18-inch Pilot TrailSport wheels
All-terrain tires
In addition to the off-road features, the Trailsport also offers safety measures like Active Sensor Safety System and Autonomous Emergency Braking.
If you're looking for a vehicle that can handle off-road excursions, the 2023 Honda Pilot Trailsport is your perfect option! With all of its new features and capabilities, it's sure to make any adventure fun and safe. Visit Bryan Honda today to learn more about the 2023 Honda Pilot and get the perfect one for your lifestyle!
How To Be The First To Get A 2023 Honda Pilot
If it is still early in the year, there may not be many dealerships with the 2023 Honda Pilot on the lot. To get your hands on a 2023 Honda Pilot at the start of the new year, you will need to contact a dealership to order one directly from the manufacturer.
Once the first half of 2023 has passed, you will most likely start to see dealerships near you get some stock of the new Honda Pilot to store on their lot. Until then, you will have to order a Honda Pilot ahead of time to get it as soon as possible.
When ordering a 2023 Honda Pilot from the manufacturer through a dealership, you will most likely get the new model before it becomes available at dealerships, however, it may take a few months to have the vehicle shipped to you.
Contact Bryan Honda to Learn More About Ordering A 2023 Pilot
If you're located in North Carolina and you're looking for a dealership that can provide you the latest information on the release of the 2023 Honda Pilot, contact Bryan Honda of Fayetteville today!
We can order a Honda Pilot for you from the manufacturer, get it shipped directly to our dealership, and have it ready for you in no time. Give us a call today or visit our website to learn more about ordering a 2023 Honda Pilot with us!